Trends
Logic in DB

Podcast
SQL:2003
MS SQL 2005



Webcast

SQL:2003
MS SQL 2005
<<Prev
1
2
3
4
5
6
7
Next >>
Reshaping and Restructuring Can Also Build Nonlinear Structures
This Reshaping example shown in Figure 4 demonstrates that Reshaping and Restructuring can also construct nonlinear multi-leg structures not previously shown in this article. In this Reshaping example, the Department over Employee nodes are used from the top structure occurrence and the Project node is selected from the lower structure copy joined (synchronized) by the Department nodes. This places the lower level structure Project node under the upper level Department node as another of its sibling nodes as desired for the target structure.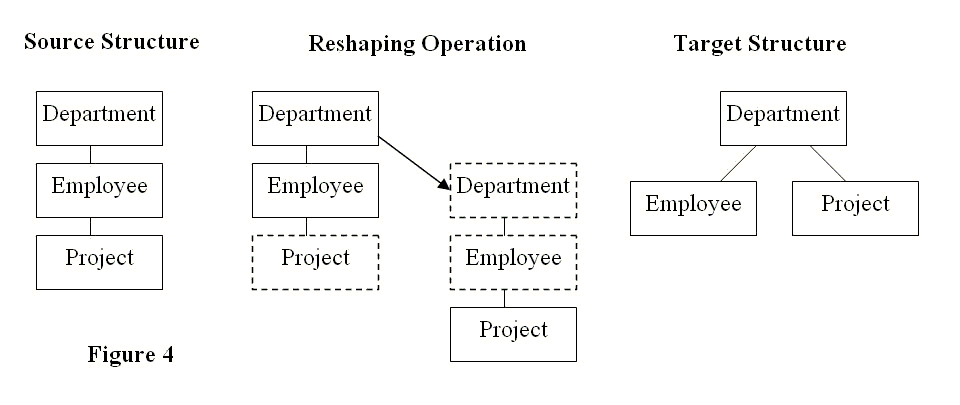 | | |
| --- | --- |
| Fast, reliable data access for ODBC, JDBC, ADO.NET and XML | Since the Department and Employee nodes are not selected from the second lower structure copy, the Project node is naturally elevated around them. This is known as node promotion which is a natural operation for hierarchical processing. This will also occur naturally in relational rowsets when no columns in a node are selected for output. The node is sliced out and the structure closes up retaining the remaining relationships around the removed node. |
---
Database Server Watch SQL Summit Home Page Articles

© 2007, Ken North Computing LLC, All rights reserved.